The Gwinns of Round Bottom
By Leona Gwinn Brown
(continued)
According to a story passed down through the family and told by my father, it was while her husband was away on an annual trek for salt, that Mary Jane Gwinn, left at home alone with young children and with food in short supply, spied a deer swimming in the river. Taking along her son to manage the oars, she jumped into the boat and intercepted the deer. Grasping the antlers, she held the deerís head under the water until it drowned; then she dressed out the carcass to add to the familyís supply of meat. (This must have occurred after the war, because tradition says it was Loomis, then about twelve years old, who held the oars.) This pioneer woman, who must have been physically strong and very courageous to perform such a feat, is remembered today by her granddaughters as a very ladylike person, kind, gentle, generous, and possessing a fine sense of humor.
Upon her return to Round Bottom, says another family story, Mary Jane stuck into the ground a twig, or "water sprout," she had broken from an apple tree in Indiana, to be used in driving the horses pulling their covered wagon on the trip home. This twig took root and grew into a tree which bore yellow, pear-shaped apples which were eaten and enjoyed by her future grandchildren.
Laban and Mary Jane, by hard work and perseverance, were able to recover from the trials inflicted by the war. The farm became prosperous once again. They were able to provide for a fine family of eight children of their own, and two adopted children, Hattie Ripley, who married a Martin and lived in the "Garden Ground" on the mountain above Round Bottom, and Kent Bennett.
Shortly before his death in 1900, Laban Gwinn divided his farm among his three sons, John, Loomis, and Lewis. Lewis received the upper portion of the tract, about a mile closer to the town of Terry. Johnís portion was across the river, between Dowdyís Bluff and Stretcherís Neck tunnel.
Loomis had married Rosa Belle Spade, daughter of William Spade and Emma Skaggs Spade of Monroe County. The deed for their part of the Round Bottom property was made to "Rosa B. Gwinn and her heirs", "for and in consideration of natural effection and love." By this time, so the family story goes, Loomis had embarked on a business enterprise at MacDonald, near Mount Hope, and Laban, by deeding the property to Rosa, meant to ensure that if the business failed, the farm would remain in the family. The deed was made on February 3, 1900, and on March 16, 1900, Laban Gwinn died and was laid to rest in the family cemetery on the farm. Mary Jane continued to live at Round Bottom until her death on April 23, 1910.
Two events of the late 1800ís greatly affected the lives of the Gwinns at Round Bottom. On January 29, 1873, the last spike was driven in the railroad ties on the bridge across New River at Hawkís Nest, completing the Chesapeake and Ohio Railroad from Norfolk to the Ohio River. This opened the area for development of the mining and lumbering industries.
In 1899, the legislature provided for the construction and maintenance of three minerís hospitals. One of these was built at McKendree, on land donated by Colonel Buery, a coal operator, almost directly across the river from Round Bottom. Three of Loomisís sons and four grandsons were to find lifetime careers with the railroad. One daughter, Nelle, and a daughter-in-law, Mabel, Wallaceís wife, trained for nursing careers at the hospital. The hospital and the railroad brought many visitors to the Gwinn farm, provided a market for some of the produce, and made travel to the outside world easier for the family. Taking advantage of the opportunity to serve and make some money from the traveling public, Loomis Gwinn built a store and a rooming house near the train station.
Though he had little formal education, Loomis Gwinn was a man of many talents; able, for example, to read blueprints, to calculate the board feet in a stand of timber, to keep books and operate a business. He was a musician, according to his daughters, and even wrote some poetry (there is a long religious poem among the "Gwinn Papers", apparently written by Loomis Gwinn). He was also an expert carpenter.
In the early 1900s, Loomis Gwinn began to build a house to shelter his growing family, ultimately to include thirteen children. Six sons and five daughters were to grow to adulthood here (a daughter and son of this family, also, died in early childhood and were buried in the family cemetery on the farm, near Laban and Mary Jane Gwinn and their two children.)
The house Loomis Gwinn built, of lumber sawed from his own trees at his own sawmill, was spacious and well-planned. The floors and interior trim, including tongue-and-groove wainscoting and mantels for the three fireplaces, were all of hardwood. Each fireplace had an opening at the back of the hearth through which ashes could be swept to fall to the basement and be removed through an opening in the flue, so that they did not have to be carried through the house. In the full basement was a hand-dug well, from which water was brought up to the kitchen by means of a hand pump. A carbide system, buried under ground, with the carbide gas piped to fixtures in the house, furnished light at night.
Around the front and one side of the house was a wide veranda, its roof supported by round columns, with a railing between. At the top of the wide concrete steps leading to the porch, two doors led to the interior of the house. The door straight ahead led into a sitting room, or family room, where a cherry-mantled fireplace, with a large mirror above it, provided warmth and cheer in the cooler months. Here the family usually gathered in the evenings to read, work, play, listen to the wind-up Victrola, or talk.
The door to the right of the front steps, seldom used, opened to a foyer and hallway. To the right off the foyer was the parlor, used only for special company, weddings, or funerals. The parlor was furnished with dark, leather-upholstered furniture, and held an ornate, mirrored, parlor organ. At the end of the hallway to the rear of the house was the spacious dining room, containing a china cupboard and the twelve-foot table which Loomis Gwinn built, himself, to seat the twenty or more people who were usually present for three meals a day.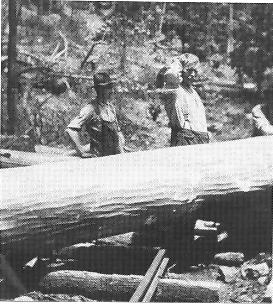 Loomis Gwinn cutting timber for his sawmill.
---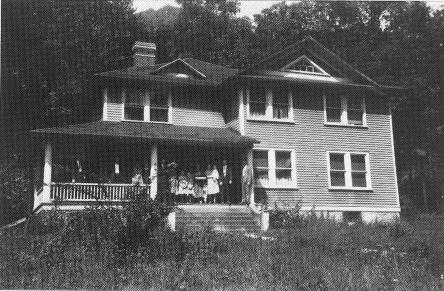 The house at Round Bottom
After this house was finished, Loomis Gwinn built another, smaller house a short distance away. This was to be the home of his wifeís parents, Emma and William Spade, who came from Monroe County to live near their daughter after William Spade suffered a stroke. After his death, Emma Spade went to Hinton to spend the rest of her days with another daughter, but the little house was always spoken of as "Grandmaís house".
Loomis Gwinn believed strongly in education, and wanted the best he could provide for his children. Since there was no school nearby, he built a small building, using lumber sawed at his own mill, and requested that Fayette County provide a teacher. This school served the Loomis Gwinn family, the children of his brother, Lewis, who lived about a mile upriver, and the children from a lumber camp near Terry.
Miss Gertrude Skaggs was the first teacher at the Gwinn school. She boarded with the two Gwinn families, spending two weeks at Loomisís and the next two weeks at the Lewis Gwinn home. She participated fully in family life, even doing her share of the chores. In the evenings she taught the Gwinn girls to play the parlor organ. One of the Gwinn Sons, Othor, married her sister, Gladys, who came to visit.
Later, Leonard Gwinn, one of her pupils, would return to teach his own sisters and cousins at Estuary School, across the river from the farm, not far from the west entrance to Stretcherís Neck tunnel. His brother, Laban, and sister-in-law, Adalyne, also later taught at this school. A little souvenir booklet, given to Leonardís students at the end of the school year 1924, lists the following students: Elsie Gwinn, Mona Gwinn, Lydia Tolley, Violet Kincaid, Nellie Tolley, Marie Ward, Arvle Withrow, Jack Withrow, Howard Kincaid, Floyd Tolley, Leonard Ward, Russell McKay, Loraine Gwinn, Bessie Kincaid, Nellie Gwinn, Leila Gwinn, Elizabeth McKay, Emmit Tolley, Buster Withrow, Marvin Withrow, Raymond Kincaid, Ernest Tolley, Raymond Ward, and John McKay. Loraine Gwinn, Leonardís first cousin, and Elsie Gwinn, his sister, were eighth grade graduates that year.
Round Bottom was a favorite retreat for summer visitors, both relatives and friends. The fertile sandy soil of the bottom land and the mild climate produced crops not found in the higher elevations--peanuts, sweet potatoes, strawberries, watermelons, and cantaloupes, which graced the table in summer. Fishing was good, and swimming, boating, and picnicking added to the fun.
Grandchildren (some of whom were born in the house at Round Bottom) share many happy memories of extended visits there. Since the only road was a rutty, sometimes almost impassable wagon road from Terry, some three miles upriver, most of us came to Round Bottom by train and boat. In the heyday of the Chesapeake and Ohio, there were several local passenger trains a day. Those of us who lived at Hinton or Alderson or Charleston or Huntington, would ride the train to the "depot", or train station at McKendree. Then we would walk a mile or so up the track, and, when we reached the path leading down to the river at a landing, would cup our hands around our mouths and yell at the tops of our voices "Heeehoooo!" An aunt or an uncle or a cousin would reply from the porch of the house across the river. In a few minutes we would see someone untying the boat at the landing across the river, to row over and "set us across".
For me, as a child, this boat trip was like a trip to a Paradise inhabited by doting aunts and uncles, cousins to play with, and Grandma to "make over us". There would be cows, chickens, pigs, dogs and cats to pet and feed; we could have watermelon and cantaloupe and fried chicken. The grown-ups would get busy visiting and not pay much attention to us. Maybe our youngest aunt, Leila, would take us swimming. Sometimes at night there would be a bonfire on the lower sandbar, across from the store.
When there were several grandchildren overnight, they usually slept in the "big room" upstairs over the kitchen, some in beds and some on a "straw tick" in the floor. I can remember waking in the room early in the morning to hear the "kerchunk, kerchunk" of the wooden dasher in the churn as Grandma churned the butter before the day got hot. We would have the butter on the biscuits she made from the flour in the large barrel in the pantry.
Life on the farm was not all fun and games, however, especially for those who lived there all year round. Clearing, plowing, fencing, cultivating and harvesting were all done without modern equipment. Housekeeping and cooking for a large family and many guests was not easy without electrical appliances. Floods, crop failures, illness, and death were trials that had to be faced.
But everyone, even visiting grandchildren, shared the work, and good humor, laughter, and love were always present. Loomis Gwinn was a genial host and a kind, fun-loving father and grandfather. Rosa Gwinn typified the "virtuous woman" described in Proverbs 31. Despite the rigors of farm life, she never complained, and there was always a loving welcome for an arriving guest or grandchild. As in Proverbs her children did, and do, "rise up and call her blessed". Each summer there was a reunion on the Sunday nearest her birthday, July 14, when family and friends shared good food and memories "down home" at Round Bottom. This custom continues, with the family meeting, usually at the home of one of their descendents, to honor the memory of Rosa and Loomis.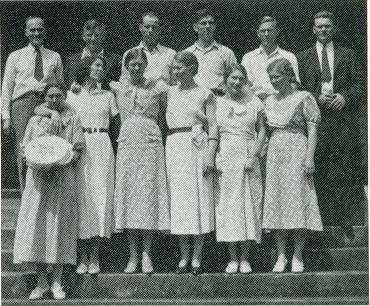 A family reunion in the 1930ís.
Front row, l. to r.: Rosa, Lena, Elsie, Mona, Nelle, and Leila.
Back row: Carl, Russell, Othor, Leonard, Laban, and Wallace.
After McKendree hospital closed in 1941, Rosa Gwinn made her home with her youngest daughter, Leila, in Huntington. She died in 1962, and was buried in the family cemetery at Round Bottom.
The education the Gwinn children received at the Gwinn School, the Estuary School, and in the everyday living at the farm prepared them well to succeed in the world outside the river valley where they grew up. All of them became responsible, productive citizens who made important contributions to their state and country.
Carl G. Gwinn, eldest son of Loomis and Rosa Gwinn, was born November 24, 1894 at McDonald, Fayette County, West Virginia. He grew to young manhood at Round Bottom, attending the Gwinn School and helping his father on the farm and at the sawmill. Later he worked cutting timber for various lumber companies.
About 1914 Carl went to work as a "gandy dancer" (section force laborer) for the Chesapeake and Ohio Railroad. He and Silas Kincaid, a neighbor youth who lived on the opposite side of the river and about two miles east of the Gwinn farm, strung a wire between their houses, made some storage batteries from copper, lead, and copper sulphate, and began teaching themselves to send telegraph messages in Morse code. By 1916, they had become proficient enough to qualify for jobs as telegraph operators.
During the time he was working as a telegrapher, Carl became acquainted with Miss Mary Johnson of Nicholas County. A lumber camp had been built in the bottom land across the track from the McKendree depot, and Mary was the teacher hired to teach in the school established for the children of the lumber workers.
World War I interrupted their lives at this point. Carl enlisted in the army on May 25, 1918. He trained at Fort Lee, Virginia, and served in France and Luxembourg and, after the Armistice, in Germany with the army of occupation. His experience as a railroad telegrapher qualified him to serve in the signal corps, sometimes stringing wire or repairing breaks in wire between the trenches, and sending messages between the various commands. He participated in the battles of Verdun and the Aragon Forest, and received a medal for his participation in the battle of Verdun.
In 1919 Carl returned home, and he and Mary Johnson were married on June 16, 1919. They lived at Round Bottom with his parents for a short while, then moved to Prince where he resumed work with the C. and 0. The family made several moves as Carlís work as operator, agent, and later train dispatcher took him to various jobs. In 1938 the family moved to Hinton.
Carlís career was interrupted by a two-year bout with tuberculosis, but he was able to return to his job as train dispatcher and work until his retirement on his 65th birthday in November, 1959. The last few years of his life were spent battling chronic leukemia. Carl Gwinn died March 16, 1965.
Russell B. Gwinn was born March 10, 1896 at Mount Hope. An early bout with polio left him slightly lame, but after attending school at McKendree he enrolled at Alderson Collegiate Institute, a military school at Alderson.
Russell began his railroad career as a yard clerk for the C. and 0. In 1923, he became a billing clerk for the N. F. and G railroad at Meadow Creek. From 1926 to 1930, he was agent at Springdale. He was then transferred to Rainelle and promoted to train dispatcher. In 1955, he became chief train dispatcher at Rainelle, where he remained until his retirement.
In 1919, he married Lula Smith. He died at Rainelle, West Virginia in August, 1974. Lula Gwinn died in March of 1974.
Othor D. Gwinn was born at Round Bottom March 20, 1898. After his marriage to Gladys Skaggs, sister of Miss Gertrude Skaggs, who taught at the Gwinn school, he moved to a farm near Lowell, Monroe County, and later to Alderson.
Othor was an expert carpenter. When World War II broke out, he went to the Panama Canal Zone to work for the government for about a year. In 1944 the family moved to Radford, Virginia, where he worked at the Radford Army Ammunition Plant. After the war he became head carpenter for Radford University, and held this position until his death, October 15, 1963.
Gladys Skaggs Gwinn died at age 50 in July of 1947. Othor later was married to Flora Worley.
Leonard C. Gwinn was born at Round Bottom November 16, 1900. He was a student of Miss Gertrude Skaggs at the Gwinn school, and because of her influence he enrolled at Alderson Baptist Academy. After three years there, he was called home because of his fatherís illness, and finished his schooling at Oak Hill High School, graduating in 1923.
He married Minnie Katherine Ray, whom he had met at ABA, on February 16, 1924, and they moved into the "McKendree House", a boarding house patronized mostly by visitors to the McKendree Hospital. The house was located next to the store owned by George Loomis Gwinn, and Leonard taught school, operated the boarding house, and helped his father in the store.
The boarding house burned to the ground in 1925. Leonard and his family lived with his parents at Round Bottom until his fatherís death in 1927. Then the family moved to Quinnimont, and Leonard began work as a telegraph operator for the C. and 0. At Quinnimont, he was a tireless worker in the Baptist church, and served as superintendent of the Sunday School for eight years.
When the Depression of the 1930ís caused cutbacks on the railroad, the family moved to South Charleston where he found work at the Carbide and Carbon chemical plant.
Following his return to the railroad and a move to Hinton, his career was interrupted by a long illness from tuberculosis. In 1940 he was sufficiently recovered to return to work, was promoted to train dispatcher, and became active in the American Train Dispatchers Association, serving as Vice General Chairman of the C. and 0. System Committee.
He died August 16, 1950, at the age of 49, following lung surgery.
Laban Gwinn was born June 26, 1902 at Round Bottom. At the age of two, he suffered an accidental injury to his eye, which, in spite of treatment by a Dr. Haley in Charleston, resulted in a loss of sight in that eye. Years later, when Laban was 63, Dr. Haleyís son performed surgery which restored the sight.
Laban attended the Gwinn School; then, following Leonardís example, and possibly also because of the influence of Miss Skaggs, he too enrolled at Alderson Baptist Academy, and played on the football team.
He returned to Oak Hill High School in 1924-25, where he boarded during the week, was a member of the football team, and took the teacherís Normal Course which then qualified him to teach in West Virginia schools. Around this time he met Adalyne Atkins, whose brother worked at McKendree during the summers. Laban and Adalyne were married July 27, 1925 at Oak Hill Baptist parsonage by the Reverend Shirley Donnelly.
Adalyne also attended ABA, and both taught in the Fayette County schools. Adalyne taught one year at the Estuary School.
In 1929, Laban went to work for Carbide and Carbon Chemicals Corporation and moved his family to South Charleston. He, too, was an experienced carpenter, and, like his father, Loomis, began building his own house on Forest Circle in 1941. World War II delayed the work, and the house was not finished until 1947.
Labanís real desire, however, was to be a minister of the gospel, and he took a correspondence course from Crosier Theological Seminary in Chester, Pennsylvania, and received a license to preach. He was never called to serve full time, but filled in for local ministers.
Labanís career, too, was interrupted by serious illness, leukemia, which claimed his life in 1969. After his diagnosis, he used his remaining time to help in the research being carried on by the National Cancer Institute at Bethesda, Maryland. He sent letters to his relatives asking them to make medical records available for the research. I quote from his letter:
Of course, I gave my consent for them to study my family and my case. It will not benefit me directly for in my case it is too far advanced, but I thought that if in some way I could be of help in making it possible to help others (especially my children and grandchildren), I am all in favor of it... It may be the means of saving some of the youngstersí lives.
Wallace Gwinn, youngest son of Loomis and Rosa Gwinn, was born at Round Bottom in 1904. He grew to young manhood helping his father and brothers on the farm, and attended Estuary School. Wallace found his lifetime career in the coal mines of Fayette County, beginning at the Minden mine of New River Pocahontas Consolidated Coal Company.
In 1923, he was married to Mabel Leete, then a student nurse at McKendree hospital. Mabel went on to finish her training at Coal Valley Hospital in Montgomery, and continued her nursing career throughout their marriage, working at Oak Hill Hospital and later at Stevens Clinic Hospital at Welch. For many years, until her death in 1989, she was office nurse for Dr. Joe N. Jarrett, in Oak Hill.
Wallace took training to qualify for the position of mine foreman, and was later promoted to superintendent of the Minden mine. He was then transferred to the Caples mine, near Welch, and worked there until his retirement in 1966. They then moved back to Mabelís family home in Oak Hill, where he died in 1971.
The first daughter of Rosa and Loomis Gwinn, Lena, was born December 29, 1905. She attended Estuary School, then continued her schooling at Oak Hill High School. In 1927 she was married to John Claypool. They moved to New York City, where both worked for several years.
In 1947, Lena was married to James Johnson. They bought a home in Hinckley, Ohio, and both Lena and Jim worked until retirement for the Chevrolet Division of General Motors. After their retirement, they moved to Inverness, Florida.
James Johnson died in 1986. Lena died January 29, 1990.
Elsie, second daughter of Rosa and Loomis, was born in 1907. She finished eighth grade in 1924 at Estuary School, near McKendree (her brother, Leonard, was her teacher that year). She then attended Oak Hill High School.
Soon after their marriage, Elsie and her husband, Asa L. Godbey, began working for Otto Becker, a manufacturer of braces and prostheses for amputees or sufferers from polio, birth defects, or other diseases. This work took them to many parts of the country, and finally to Florida, where they continued in this work until retirement.
Asa Godbey died in 1975. Elsie died in 1997.
Another sister, Mona, was born in 1910. Mona also attended the school taught by her brother, later going on to Oak Hill High School. In 1931 she married Samuel Jett. They lived in Salem, Virginia, where they owned a restaurant.
Following Samuel Jettís death in 1946, Mona owned and operated a tearoom in Salem. She married Ira E. Frost April 12, 1948. They moved to Marion, Ohio, where Mona died in July, 1987.
Nelle Gwinn, born in 1913, was another of Leonardís students. She went on to a career in nursing, taking her training at McKendree Hospital. She graduated from nursesí training there in 1939, and worked as supervisor of nursesí training until the hospital closed in 1941. She then went to Morgantown, where she was a nurse at Heiskell Hospital, and served as secretary of the state board of nursing examiners. She then worked as a supervisor at Beckley Hospital and operating room supervisor at Raleigh General Hospital in Beckley.
Nell was first married to Estel Walters, who died in 1956. She and her second husband, Ira Wriston, lived at Beaver in Raleigh County, West Virginia. Nelle died January 23, 1991.
Leila, youngest of the Gwinn girls, was born in 1914. Before she was old enough to enroll in school, her brothers carried her on their shoulders to the Gwinn school. After the Gwinn school closed, she attended Estuary school, and, later, went to Hinton to stay with her eldest brother, Carl, and his wife and attend Hinton High School.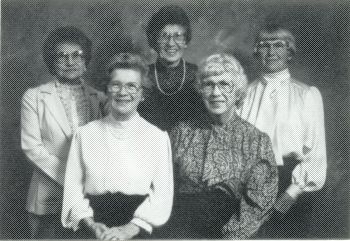 The "Gwinn Girls" in 1986.
Front, l. to r.: Leila and Lena.
Back: Nelle, Elsie, and Mona.
After high school, Leila returned home to the farm, and in 1935 married Woodrow Walters, brother of Nellí husband, Estel. She and Woodrow remained on the farm with mother Rosa until economic conditions forced them to move to Huntington, where Woodrow was employed by the Chesapeake and Ohio Railroad.
Woodrow Walters died in 1962, and Leila, with their two children, went to Florida to live near her sisters, Lena and Elsie. She lived at DeLand until her death in 1991.
The children, grandchildren, and great grandchildren of these sons and daughters of Loomis and Rosa are now scattered "from sea to shining sea", engaged in many professions and occupations. Some of them, as Grandfather Loomis did, have built their own houses with their own hands. Each of them is contributing, in his or her own way, to the history of this century, as their forebears did to the history of the eighteenth and nineteenth centuries in our country.
The life of the old days beside the river at Round Bottom is in the past. The fields are grown up; the house is in ruins. What is the true legacy that John and Sara Gwinn, Laban and Mary Jane, Loomis and Rosa left to their children, grandchildren, and great-grandchildren? The gifts, I think, are intangible but invaluable: a sense of humor to soften lifeís crises, a capacity for hard work, happy memories of the life along New River, a sense of "family", and roots in the West Virginia soil.
Shirley Donnelly, a Baptist minister and Fayette County historian, wrote a series of columns about the Gwinns for the Beckley Post-Herald. In November of 1962, after a visit to Round Bottom to officiate at the burial of Rosa B. Gwinn in the family cemetery, he wrote:
But gone is the glory of the old Gwinn place. Over it all may hover the spirits of those sturdy pioneers but it seemed to me that one could write in the haze that hung over the hollow the day we were there the old Hebrew word of "Ichabod"ómeaning "the glory is departed."
A writer of Gothic novels, Christine Beckelheimer of Oak Hill, who was once a guest at Round Bottom, used the place for the setting of a novel, "The Message". In the book, she said, is a ghost, "a good one".
If there are ghosts and spirits at Round Bottom today, Iím sure they are benevolent ones, and can only add to the enjoyment of the canoers, campers, and fishermen who may come to explore and enjoy the New River Gorge.
GWINN FAMILY TREE
Robert Gwinn, born in Wales, settled in Augusta County, Virginia before 1744. In 1746 he was appointed constable at the head of the Great Calfpasture River (near presentóday Staunton) in Augusta County, Virginia. (Source: Early Augusta Pioneers, by G. W. Cleek, Staunton, Virginia, 1952.
I. Robert Gwinn married Jean Kincaid
Children of Robert Gwinn:
1. Joseph m. Mary Jane Kincaid
2. Agnes m. Wm. Lockridge, d. 1795
3. Nell
4. Thomas m. Elizabeth Lockridge, dau. of Samí1. Lockridge
5. David, b. 1742, m. (1) Viola Crawford (2)Jane Carlisle
6. Robert, Jr., m. Sally Lockridge, dau. of Samíl. Lockridge
7. Simon m. Elizabeth Lockridge, dau. of Andrew Lockridge
8. James m. Marca Estill
9. Samuel, b.1745, d. March 23, 1839, m. Elizabeth Lockridge Graham, widow of Robert Graham
II. Samuel Gwinn, b. ca 1745, d. 1839, m. 1774 Elizabeth Lockridge Graham, b. ca 1759(?), d. 1832, dau. of James Lockridge and Isabella Kincaid, was first married to Robert Graham
Children of Samuel Gwinn:
1. Samuel m. 1803 Elizabeth Taylor
2. Jane m. David Withrow
3. Ruth m. 1802 James Jarrett
4. Moses b. 1774 m. 1805 Elizabeth Wilson d.1822
5. Isabella m. Thomas Busby
6. Ephraim m. Rachel Keller
7. Andrew m. Mary Newsome
6. Betsy m. Robert Newsome
9. John b. Feb. 2, 1790, d. July 27, 1873
III. John Gwinn b. Feb. 2, 1790, d. July 27, 1873, m. 1812 to Sarah George, daughter of Thomas George
Children of John Gwinn:
1. Francena m. John Fulwider, moved to Indiana 1843
2. Lockridge b. 1815, d. 1882 m.1848 Elizabeth Bragg
3. Sidney b. 1816, d. 1899, m. Caleb Lively
4. Eldridge b. 1817, d. 1881, m. Cynthia Surbaugh
5. Breckenridge b. 1819, d. 1902, m. (1) Sara Higgenbotham (2) Ruth Bowles (3) Ellen Arthur
6. Cynthia m. Samuel Gwinn (son of Ephraim)
7. Achsah b. 1822 d. 1830
8. Samuel b. 1824 d. 1899 m. Frances Lowry
9. Wm. Harrison b. 1837, d.1917
10 John G. b. 1831 d. 1896 m. Parthenia Higginbotham
11. Laban b. Feb. 28, 1828, d. March 16, 1900
IV. Laban Gwinn, b. Feb. 28, 1828, d. March 16, 1900, m. 1834 Mary Jane Burdette, b. 1838, d. 1910
Children of Laban:
1. Sarah C., b. 1855, d. 1932, m. 1875 J. S. Johnson
2. John Henry b. 1858, d. 1935, m. 1892 Rosa Montgomery
3. Virginia Belle b. 1864, d. 1937, m. 1883 James Pugh
4. Emily b. 1867, d. 1870
5. Cynthia J. b. 1874, d. 1894
6. Ella E., b. 1873, d. 1960, m. 1894 G. D. Elmore
7. Lewis Sherman b. 1876 d. 1961 m. Willa Pugh
8. George Loomis b. Jan. 16, 1861, d. Jan. 27, 1927, m. Rosa B. Spade, b. July 11, 1873, d. Nov. 3, 1962
Adopted children of Laban Gwinn:
Hattie Martin, nee Ripley, b. 1891,
Keith Bennett
V. George Loomis Gwinn b. Jan. 16, 1861, d. Jan. 27, 1927, m.1894 Rosa B. Spade, b. July 11, 1873, d. Nov. 3, 1962
Children of George Loomis Gwinn:
1. Carl G., b. 1894 d. 1965, m. 1919 Mary Johnson, b.1898 d.1990
2. Russell B., b. 1896, d. 1974, m. 1919 Lula Smith,b.1884 d. 1974
3. Othor D., b. 1899, d. 1963, m. Gladys Skaggs, d. 1947
4. Leonard C., b. 1900, d. 1950, m. 1924 Minnie Ray, b. 1902, d. 1981
5. Wm. Laban, b. 1902, d. 1969, m. 1924 Adalyne Atkins
6. Wallace, b.1904, d. 1971, m. 1923 Mabel Leete, d.1989
7. Lena, b. 1905, d.1990, m. (1) John Claypool (2) James Johnson
8. Elsie, b. 1907, d.1997, m. Asa Godbey
9. Mona, b. 1910, d. 1987, m. (1) Samuel Jett (2) Ira Frost
10. Nelle, b. 1913, d.1991, m. (1) Estel Walters (2) Ira Wriston
11. Leila, b. 1914, d. 1991, m. 1935 Woodrow Walters, d.1962
---
SOURCES OF INFORMATION
Courthouse records:
Augusta County, Virginia; Fayette County, West Virginia; Greenbrier County, West Virginia
Original documents now in the possession of A. N. Gwinn, Grand Rapids, Michigan referred to as "Gwinn Papers"
Books:
Callahan, James Morton, Semi-Centennial History of West Virginia, published by the Semi-Centennial Commission of West Virginia, 1913
Chalkley, Lyman, Abstracts of the Original Court Records of Augusta County, Virginia, published in 1912 by the DAR. Reprinted by Genealogical Publishing Company, Inc., Baltimore, MD 1980
Cleek, George W., Early Western Augusta Pioneers, published by the author in Staunton, Virginia, 1957
Gwinn, Jesse Blaine, History of the Gwinn Family, published by the author, 1961, printed by Commonwealth Press, Inc. Radford, Virginia
Kegley, F. B. and Mary, Early Adventurers on the Western Waters
Morton, 0. F., A History of Highland County, Virginia, Regional Publishing Company, Baltimore, MD 1972 (first published in Monterey, Virginia, in 1911)
Morton, 0. F., A History of Monroe County, Virginia, Regional Publishing Company, Baltimore, MD 1980 (first published in Staunton, Virginia, 1916)
Peters, J. T. and Carden, H. B., History of Fayette County. West Virginia, Jarrett Printing Company, Charleston, WV 1926
Price, William T., Historical Sketches of Pocahontas County, West Virginia, first printed by Price Brothers Publishing Company in Marlinton, WV, 1901, reprinted 1963 by McClain Printing Company, Parsons, WV
Rice, Otis K., The Allegheny Frontier, The University Press of Kentucky, Lexington, KY 1970
Stutler, Boyd B., West Virginia in the Civil War, Education Foundation, Inc. Charleston, WV 1966
Periodicals:
Cox, William E., "The Civil War Letters of Laban Gwinn: A Union Refugee", West Virginia History, Volume XLIII, Spring 1982, published by West Virginia Department of Culture and History, Charleston, WV
Donnelly, Shirley, "Historic Gwinns of Fayette County", a series of columns published in November of 1962 in The Beckley Post-Herald, published by Beckley Newspapers, Beckley, WV
Long, Frederick D., columns on the history of the Samuel Gwinn family published from November 15, 1979 to April 24, 1980 in The Hinton News, Hinton Publishing Corporation, Hinton, WV
"Gwinn and Adkins Families Populate the C. & 0.", The Train Dispatcher, June, 1949, published by American Train Dispatchers Association, Chicago, IL
Nyden, Paul J., "Mabel Gwinn, New River Nurse", Goldenseal, Volume 7, Number 3, published by West Virginia Department of Culture and History, Charleston, WV
Gwin, Hugh, article in Highland County history book published by Highland County Historical Society, page 123
Gwin, Hugh, column "Historically Speaking", in The Recorder, September 1, 1983